The MIT Chemical Engineering department provides advanced instruction in the foundational core subjects of thermodynamics, transport, reactor design and systems engineering. This base of knowledge is applied to a range of research topics relevant for industry, including the energy and biotech sectors. LGO students in Chemical Engineering are prepared to lead the next generation of pharmaceutical products. However, the program does not limit alumni only to this industry. Chemical Engineering LGOs have careers in energy and consulting, and some go into supply chain management at companies like Amazon and Caterpillar.  Meet one of our current LGO students, Long Pan, LGO '21, who is pursuing an MBA and an MS in ChemE.
~
What is your academic/professional background:
I did my undergrad at Tufts, where I pursued a BS in Chemical Engineering. Thereafter I became a process engineer in the biotechnology industry, starting at Sanofi Genzyme followed by Bluebird Bio.
Why did you decide to pursue an MS in ChemE from MIT?
Chemical engineering at MIT is the perfect match for me as my passion lies with the biotechnology industry. Situated in the heart of the largest biotech hub in the world, MIT not only provides the rigorous coursework required to sharpen your technical skills, but also the professional connections within the industry. Specifically, the LGO program has strong partnerships with companies I admire, such as Amgen, AstraZeneca, Sanofi, Boston Scientific, and Johnson & Johnson.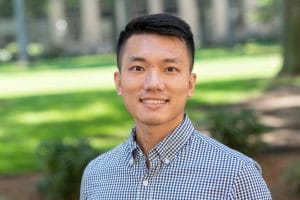 What is your favorite part about being a part of the MIT School of Engineering? 
Although the world-class research and engaging coursework are top highlights for the MIT School of Engineering, the community and people are my favorite parts about the program. The students and professors are incredibly smart yet humble; they are always willing to lend a helping hand whether in coursework, career search, or personal matters.
Do you have any tips for ChemE applicants? 
The ChemE core classes are demanding with heavy emphasis on mathematical skills and coding within MATLAB. As LGO candidates who have been away from coursework for quite a while, it is important to brush up on the fundamentals learned in undergrad and to familiarize yourself with MATLAB.
~
By Long Pan, LGO Class of 2021