MIT LGO students can apply their engineering knowledge to sustainability problems that impact a global operations system. Students work with renewable energy sources, measure company's environmental impact, and make suggestions based on rigorous data analysis. Many of the sustainable engineering projects we currently have focus on energy and have a sustainability component, usually working with renewable energy sources.
Enabling dematerialization of product development, transfer and manufacturing
Janelle Heslop (LGO '19)
Engineering Department: Civil and Environmental Engineering
Company: Amgen
Location: Thousand Oaks, CA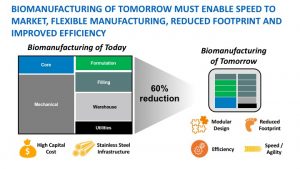 Problem: Amgen competes globally to advance important medicines in a highly competitive marketplace facing increasing pressures from pricing and regulatory scrutiny. To prepare for this changing business environment, Amgen needs to develop a manufacturing strategy that can enable the production of high-quality products with significant reduction in timelines and cost. Biomanufacturing of tomorrow must enable speed to market, flexible manufacturing, reduced footprint and improved efficiency. 
Approach: Janelle's project followed a structured approach to develop knowledge and tools that can be used to improve decision-making around next generation manufacturing technologies for both Drug Substance and Drug Product in Process Development. Her project used four major work-streams: 
Technology landscaping for process, prioritizing process units for evaluation 

 

Development of criteria for technology evaluation 

 

Evaluation of selected tech based on criteria 

 

Development of playbooks to capture technology assessment and use case

s



Impact: Janelle identified three critical evaluation areas for assessing next generation manufacturing technologies: economic, environmental, and operational attributes. She demonstrated that the evaluation framework helped in meeting a critical need for technology decision-makers at Amgen: the need for an objective and standard methodology for evaluating and deploying new technologies in the manufacturing network. Based on Janelle's work, Amgen can further refine this framework to ensure that it reflects its most critical business priorities and that it can be used broadly across many process areas.