MIT LGO students can apply their engineering knowledge to sustainability problems that impact a global operations system. Students work with renewable and labor resources, measure company's environmental and industry impact, and make suggestions based on rigorous data analysis.
Developing a Decision-Making Framework for Carbon
Paige Wyler

(LGO '22)
Engineering Department: Operations Research Center
Company: Rivian
Location: Normal, IL
Problem: The fundamental problem that Rivian was seeking to solve for Paige's project was how to effectively integrate carbon into decision-making processes to meet their carbon reduction goals. She needed to develop a framework for individuals and teams to incorporate sustainability into their decisions, quantify carbon impact of different decisions, and provide a tool to optimize decision-making for carbon impact and cost objectives while meeting sustainability goals.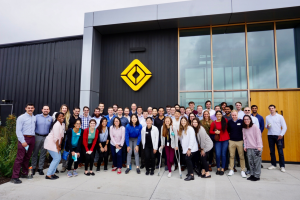 Approach: The primary focus of Paige's work was quantifying the importance of carbon relative to Rivian's competing business objectives and developing a framework for decision-making. Paige applied a price to carbon emissions to determine the economic and emissions benefits of adding an optimally managed battery storage management system at future charging station locations. She relied primarily on public data on emissions in specific regions across the US, Rivian's internal projections for customer charging at future station locations, and public data on regional  utility energy rates.
Impact: The framework Paige developed empowers individual business units to make decisions and provides a mechanism for allocating capital efficiently to meet carbon reduction goals, while still meeting business objectives. It also presents a methodology for systematically defining the tradeoffs between carbon emissions and other objectives, thereby enabling decision-­makers to use a consistent framework with which to evaluate carbon reduction strategies. Additionally, implementing a carbon price was shown to decrease emissions when applied to operational decisions. Adding a carbon price to optimal battery storage management reduces emissions by 19-24 % depending on the price used. The results from this analysis illustrate the relative impact of carbon prices and how it can be used as a tool to evaluate investment decisions under a carbon lens. It also provides an analytical framework for applying carbon pricing to business decisions in the future, as well as the conditions that must be met in order to make this system meaningful.
Establishment of Novel Pichia pastoris Host Production Platforms
Ellen Coleman (LGO '20)
Engineering Department: Mechanical Engineering
Company: Amgen
Location: Thousand Oaks, CA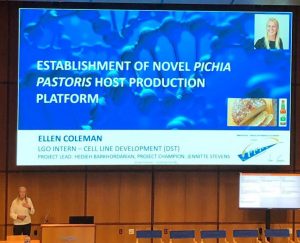 Problem: The Cell Line Development group at Amgen is responsible for manufacturing and optimizing the cell lines utilized in production of Amgen's biologic drug portfolio. Traditionally, these cell lines are produced from mammalian host organisms, primarily Chinese Hamster Ovary (CHO) cells. Advancing alternative hosts offer a unique opportunity to manufacture biologics at fractions of current speed and costs.  
Approach: Advancing Pichia (alternative yeast host) strain engineering technology will eventually drive broader utilization in commercialized products and help curb the rising cost of biologic medicines. Ellen's project objective was to perform Pichia cultivations to provide proof-of-concept process data. She aimed to quantify the strategic advantage of the Pichia host in Amgen's pipeline, and determine when, why and how such a product would be manufactured. 
Impact: Overall, Pichia offers an entirely new operational challenge for the scientists', engineers and strategists at Amgen to consider.  A few of the key outcomes from Ellen's project include: 
Alternative host materials produce similar pro

ductivity as published results

 

Pichia

has potential to reduce raw material cost per lot by

~ 40%

 

Operational cost savings must be evaluated on a per facility basis

 

 
Enabling Dematerialization of Product Development, Transfer and Manufacturing
Janelle Heslop (LGO '19)
Engineering Department: Civil and Environmental Engineering
Company: Amgen
Location: Thousand Oaks, CA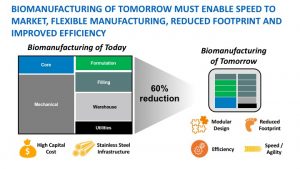 Problem: Amgen competes globally to advance important medicines in a highly competitive marketplace facing increasing pressures from pricing and regulatory scrutiny. To prepare for this changing business environment, Amgen needs to develop a manufacturing strategy that can enable the production of high-quality products with significant reduction in timelines and cost. Biomanufacturing of tomorrow must enable speed to market, flexible manufacturing, reduced footprint and improved efficiency. 
Approach: Janelle's project followed a structured approach to develop knowledge and tools that can be used to improve decision-making around next generation manufacturing technologies for both Drug Substance and Drug Product in Process Development. Her project used four major work-streams: 
Technology landscaping for process, prioritizing process units for evaluation 

 

Development of criteria for technology evaluation 

 

Evaluation of selected tech based on criteria 

 

Development of playbooks to capture technology assessment and use case

s



Impact: Janelle identified three critical evaluation areas for assessing next generation manufacturing technologies: economic, environmental, and operational attributes. She demonstrated that the evaluation framework helped in meeting a critical need for technology decision-makers at Amgen: the need for an objective and standard methodology for evaluating and deploying new technologies in the manufacturing network. Based on Janelle's work, Amgen can further refine this framework to ensure that it reflects its most critical business priorities and that it can be used broadly across many process areas.