The LGO program offers energy management internships, especially related to delivering and using electricity and gas. Other companies offer projects around sustainable energy usage, solar energy, and fuel cells. Internships provide a unique opportunity to pair a student's engineering and MBA studies with an energy engineering and management concentration. For students looking to go even deeper, both the Mechanical Engineering and Civil Engineering departments have specializations in energy, and MIT's Energy Initiative is a campus-wide organization focused on the topic.
Transmission System Overvoltage Mitigation Through the Use of Distributed Generation (DG) Smart Inverters
Ali Said

Alrayes

(LGO '20)
Engineering Department: Electrical Engineering and Computer Science
Company: National Grid
Location: Waltham, MA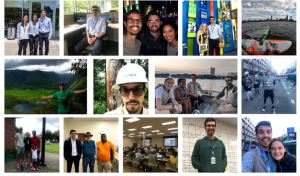 Problem: Ali's project at National Grid focused on rapid deployment of Distributed Generation (DG) across its electricity distribution system. National Grid predicted that increased DG deployment had the potential to cause overvoltage violations on the transmission system, due to the underloading of high voltage (69kV and 115kV) transmission lines. Traditional responses were to install system upgrades in the form of shunt reactors. However, these system upgrades are expensive and time-consuming to install, potentially de-incentivizing and/or delaying the deployment of DG projects. 
Approach: Ali proposed utilizing the reactive power absorption capability of the DG inverters, in aggregation, to absorb excessive reactive power from the system making substations act as "Virtual" Shunt Reactors. To prove this, Ali investigated the maximum capability of a distribution feeder's reactive power absorption through their DG smart inverters, by modeling two "representative" distribution feeders and substations under different deployment scenarios, labeled "Reactive Power Hosting Capacity." Ali then performed a cost-benefit analysis to compare the proposed smart-inverter solution to the existing shunt reactor solution to prove the viability of the project. 
Impact: Ali's results proved that under specific scenarios, implementing a smart inverter-based solution had potential cost savings up to $300,000/year/substation compared to installing shunt reactors. As National Grid moves into a new era of greater collaboration with DG owners, Ali's model offers a roadmap for future work that includes re–designing the interconnection standards in Massachusetts to require smart inverter installations on all DG sites, and studying additional feeders with a larger diversity of characteristics. 
Development of a Value Chain Concept and Supply Chain Organization for Power Electronics
Julian Demetz (LGO '18)
Engineering Department: Aeronautics and Astronautics
Company: MR
Location: Regensburg, Germany
Problem: MR is considered a technology leader in the field of electromechanical regulation systems for electrical power. Ongoing changes in the electrical grid, including integration of renewable generation, decentralization of power generation and a high degree of automation requires the adoption and utilization of new technologies. The field of power electronics (PE) was identified as a new technology, and its successful adoption was considered strategically critical for MR. 
Approach: Julian developed recommendations to MR for the design of a value chain for power electronics products for the mid-voltage distribution grid market. His recommendations were developed based on the analysis of external market forces with Porter's Five Forces Model, assessment of a potential level of vertical integration based on MR's current technical capabilities, and the analysis of uncertainties of market parameters with an NPV model and Monte Carlo Simulation. 
Impact: Julian's project found that if MR was to enter the power electronics-based products-market (PE-market), the threat of retaliation from existing customers/suppliers with subsequent negative impact on their core business was low. However, as customers were actively entering the PE-market, Julian recommended MR accelerate efforts to enter the PE-market with an autonomous and agile organization to enable quick decision-making.