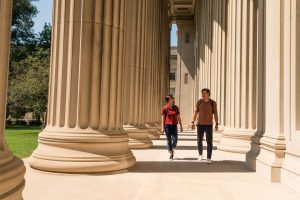 Leaders for Global Operations (MIT LGO program) partners with the MIT School of Engineering and the MIT Sloan School of Management to deliver a unique Engineering-MBA dual degree program. The two-year curriculum places students in industry research internships at partner companies.
Students in the MIT LGO program develop the leadership skills and tools to manage operations units in analytics, manufacturing, energy, high-tech, pharmaceutical, and global supply chain industries.
During the program, students combine advanced engineering and business theory, which makes LGO graduates among the most sought after on the job market. LGO alums lead a variety of product development, global operations, and manufacturing development initiatives at leading companies and entrepreneurial ventures throughout the world.
Key Facts
Mission: to generate cutting-edge knowledge at the intersection of engineering and management, and to educate leaders to address the world's most challenging operations and high-tech problems.
Enrollment: between 45 and 50 students in each class
MIT LGO Program timeline: students study for 24 months
Degrees: students finish with an MBA and a master of science in one of seven engineering departments.
Action Learning: is a core component of all MIT education, and the MIT LGO program is no different. Students do:

A six-month research internship focused on an applied business and engineering project and which provides the research basis for the required MS thesis.
Domestic and international treks to some of the world's most dynamic companies.
Options to complete semester action learning projects on a variety of themes, from global development to entrepreneurship to healthcare to space systems.

Location: students study at MIT's campus in Cambridge, MA. The required internship takes place in locations all over the world.
Financial Aid: The generous support of LGO's partner companies provides partial-tuition funding to all admitted students.