Robots and automated processes have transformed how global companies make and distribute products. For students interested in robotics, LGO offers coursework and research along a sophisticated automation toolkit, both in the classroom and in robotics internships. Multiple departments at MIT are researching the many ways that robotics and automation can solve problems. Aeronautics and Astronautics, Mechanical Engineering, and Electrical Engineering departments all offer robotics classes. MIT's cross-disciplinary institutes like CSAIL and the Media Lab also contribute to groundbreaking research on the topic. Several LGO partner companies have leveraged LGO internships in robotics to develop automation solutions.
Floor Entry Task Prioritization for Highly Automated Fulfillment Centers
Ankur Amlani (LGO '20)
Engineering Department: Mechanical Engineering
Company: Amazon Robotics
Location: North Reading, MA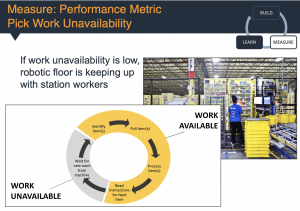 Problem: Amazon Robotics' well-known orange robots have revolutionized the retail industry; they can be seen moving materials to and from storage in many fulfillment centers. On the floor, obstructions such as fallen products and deactivated robots can reduce overall throughput. Ankur's project aimed to understand the cost-benefit tradeoff of entering the floor to resolve obstructions.
Approach: Ankur created a new framework to estimate the operational impact of entering the floor. With this model, he developed proposed guidelines for when to enter the floor or not, consulting with fulfillment center staff to better understand the context. He applied an Agile Method approach to rapidly develop and pilot a software tool to deliver recommendations in the field.
Impact: During the treatment shifts on the floor, Amazon workers experienced low idle time, and about three times as many floor obstructions were resolved during non-operation by avoiding floor entries the model deemed unnecessary during operation. Ankur's model can help standardize floor entry decisions across the Amazon fulfillment center network and improve future performance.
Evaluation of Automated Storage and Retrieval in a Distribution Center
Adriane Turner (LGO '20)
Engineering Department: Mechanical Engineering
Company: Nike
Location: Memphis TN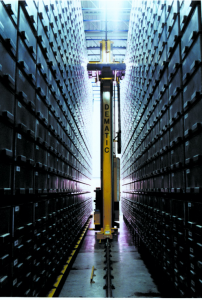 Problem: Facing ecommerce growth and rising customer delivery expectations, companies must adapt to meet shorter contract shipping requirements with existing infrastructures. The "Amazon effect," resulting in increased online shopping and direct-to-consumer order fulfillment, is reverberating through the retail industry, requiring manufacturers to evaluate their existing supply chain networks to meet 1-2-day shipping from their distribution centers (DCs). Adriane evaluated speed and execution improvements at Nike using automated storage and retrieval systems (ASRS) in DCs.
Approach: Adriane first evaluated the current DC state to create a time savings simulation to quantify automation results. She researched what ASRS were available and determined what inputs changed selections most to build retrofit options. Her next step was creating a model that calculated SKU input/output costs for the ideal ASRS from throughput and inventory requirements. 
Impact: Analysis of the DC evaluated indicated the primary delay in shipping time was due to high variability in task completion time, rather than a high average completion time. Implementation of ASRS in the DC could decrease processing time in storage and retrieval by 67%, and total processing time through the DC by 37% due to ideal sequencing, diminished downstream variability, and reduced work in progress.
An Improved Reliability Assessment of a Modular Controller
Heather Hausladen (LGO '18)
Engineering Department: Mechanical Engineering
Company: ABB Robotics
Location: Västerås Sweden & Shanghai, China
Problem: Modular industrial robot systems are well suited for high performance (e.g. accuracy, repeatability and speed, or shorter cycle times) and also support flexibility for robot systems to be easily adaptable to a wide range of customer applications. A third characteristic of the robot system—reliability—is becoming increasingly important as industrial manufacturing processes and products increase in complexity and the costs of robot failure increase, such as production line downtime.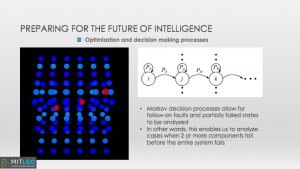 Approach: Heather's project aimed to improve and monitor quality performance of a robot system in a way that's highly meaningful to customer needs. To do this, her project had two goals: measure the reliability of a module with greater accuracy, and develop a nuanced approach to meaningfully analyze entire sections of the system, comprised of multiple modules using an algorithm based on reliability physics.
Impact: Heather's project found that reliability analysis enables early-on detection of design alterations for circuitry and mechanical interfaces that can reduce stress factors influencing system reliability. In addition, she found reliability analysis also helps identify which modules and components should receive priority for reliability testing. This reduces costs for reliability testing, with only the most critical parts and modules tested, and improves product launch timelines.