After the official MIT commencement ceremonies, Thomas Roemer, LGO's executive director, announced the best thesis winner at LGO's annual post-graduation celebration. This year's winner was Maria Emilia Lopez Marino (Emi), who developed a predictive framework to evaluate and assess the impact of raw material attributes on the manufacturing process at Amgen. Thesis readers described Marino's project as an "extremely well-written thesis.  Excellent coverage of not only the project, but also the industry as a whole."
Applying MIT knowledge in the real world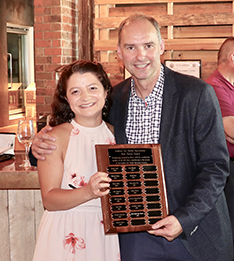 Marino, who earned her MBA and SM in Civil and Environmental Engineering, completed her six-month LGO internship project at Amgen, Inc. For her project, Marino developed a new predictive framework through machine learning techniques to assess the impact of raw material variability on the performance of several commercial processes of biologics manufacturing.  Finding this solution represents a competitive advantage for biopharmaceutical leaders. The results from her analysis showed an 80% average accuracy on predictions for new data. Additionally, the framework she developed is the starting point of a new methodology towards material variability understanding in the manufacturing process for the pharmaceutical industry.
Each year, the theses are nominated by faculty advisors and then reviewed by LGO alumni readers to determine the winner. Thesis advisor and Professor Roy Welsch stated Emi "understood variation both in a statistical sense and in manufacturing in the biopharmaceutical industry and left behind highly accurate and interpretable models in a form that others can use and expand. We hope she will share her experiences with us in the future at LGO alumni reunions and on DPT visits."
Marino, who earned her undergraduate degree Chemical Engineering from the National University of Mar Del Plata in Argentina, has accepted a job offer with Amgen in Puerto Rico.