MIT LGO students can apply their engineering knowledge to sustainability problems that impact a global operations system. Students work with renewable energy sources, measure company's environmental impact, and make suggestions based on rigorous data analysis. Many of the sustainable engineering projects we currently have focus on energy and have a sustainability component, usually working with renewable energy sources.
Improving Processes to Reduce Reagent Waste

Amy Gobel (LGO '17)
Company: Quest Diagnostics
Location: Marlborough, MA
Problem: Quest Diagnostics wants to reduce operating expenses by $1.3B. They plan to focus cost-saving initiatives on reagents. What are reagents? Reagents are expensive liquids used when evaluating medical samples during tests for diseases or medical conditions. Prior to Amy's project, quality control samples and mechanical errors created the most reagent waste, accounting for 5.2% and 4.4%, respectively. Quest Diagnostics asked Amy to uncover the primary drivers of this waste.
Approach: Amy observed operations in four laboratories and interviewed laboratory representatives. She identified differences in maintenance and operating procedures that led some sites to generate more waste than others. Individual laboratories developed procedures that reduced waste locally, but they did not consistently share these practices across business units. She developed training materials to capture and efficiently disseminate institutional knowledge.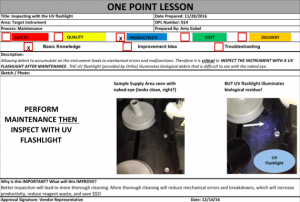 Amy also surveyed all sites to measure how quality control procedures differed throughout the company. She found that all sites met quality control requirements, but subtle differences in operating procedures led to large differences in how much material were consumed.
Impact: Amy had two kinds of impact on her internship host company. An interdisciplinary team of experts is defining how to unify practices across laboratories. Quest also added 30 training documents to a central repository of training materials. All operators will be required to review and pass comprehension quizzes on the material. With her internship focused on waste reduction, Amy was able to get credit towards the sustainability certificate at MIT.
Data Analysis to Increase Product and Factory Sustainability

Hashim Alhamad (LGO '17)
Company: Li & Fung
Location: Hong Kong
Problem: Making a single cotton t-shirt requires 700 gallons of water. Li & Fung has committed to supply chain digitization and visibility so that consumers know the impact of garments they buy. The company is focused on obtaining and curating digital data as well as tracking and monitoring the origin of products.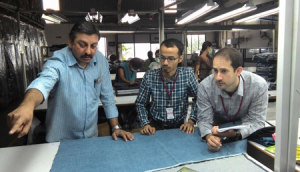 Li & Fung asked Hashim to develop a tool to better track the sustainability footprint of their factory-sourced garments. This tool can help benchmark environmental impact and help factories focus on their sustainability performance.
Approach: Hashim broke his methodology down into five steps:
Visit Li & Fung factories and observe the garment product life cycle from cutting and sewing through ironing and packaging.
Examine industry best practices in measuring sustainability foot prints.
Leverage available databases on the garment industry environmental impact, conducting secondary data collection.
Conduct primary data collection from targeted Li & Fung factories via a mobile tool he developed.

Hashim (LGO '17) at his internship city, Hong Kong.

Create a sustainability index for factories and products.
Impact: Hashim's database will help Hashim better understand the sustainability of Li & Fung products. This data will help the company  evaluate products and factories and make more sophisticated sourcing decisions. The sustainability index itself includes data on electricity use, water use, wastewater, and material waste. Initial results show that 100 watt-hours are needed and 10 grams of fabric are discarded in order to produce one dollar's worth of t-shirt material in a cut and saw factory. Final results will include the impact of the upstream production as well.
Applying Systems Thinking to Hazard Analysis and Workplace Safety
Nathan Peper (LGO '17)

Company: The Boeing Company
Location: Everett, WA
Problem: The Boeing Company produces commercial airplanes within a very complex system. Most of Boeing's current safety methods were developed for a less complex system and are rooted in reliability theory. However, with increasing technology and environmental changes, many accidents occur with no hardware failures at all.  Rather, they are the result of interactions throughout the socio-technical system. Boeing's overall company safety record is lagging compared to other industries. Nathan's project reduced workplace injuries and increased the efficiency and effectiveness of hazard analysis.
Approach: Nathan focused his efforts on two areas of production system safety:
Managing safety during the implementation of complex automation processes
Safety management more generally throughout the organization
To assess hazard analysis, Nathan compared results of the current safety risk assessment process to the results of a Systems-Theoretic Process Analysis (STPA) tool. This method views safety as an emergent property of the system and treats safety as a dynamic control problem.
Impact: The comparison results show STPA fulfills all applicable hazard analysis requirements. Boeing can also apply the new analysis process much earlier in the design process. The test case shows that STPA was much more effective in handling the complexity of automation and human factors. Also, the STPA process was better adapted to the work environment and complex schedules of the organization. These results will help Boeing's hazard analysis stakeholders make more informed decisions. Engineers can shift their mindsets from proving that a system safe to figuring out how a system could ultimately be unsafe. Overall, they now have a better understanding of the system before determining the best controls to put in place.