Manager of Manufacturing at Amgen, Maria Emilia Lopez Marino, LGO '19 reflects on her LGO experience and her biggest career takeaways from the program.
---
What are you responsible for in your current role?  
In my current role, I am responsible for leading a group of 20+ associates in the Upstream Drug Substance Operations in Amgen, Puerto Rico. At a personal level, it is very inspiring to serve patients by providing therapies that have the power to restore health or save lives. I can proudly say that my team's hands have the potential to save lives on a daily basis.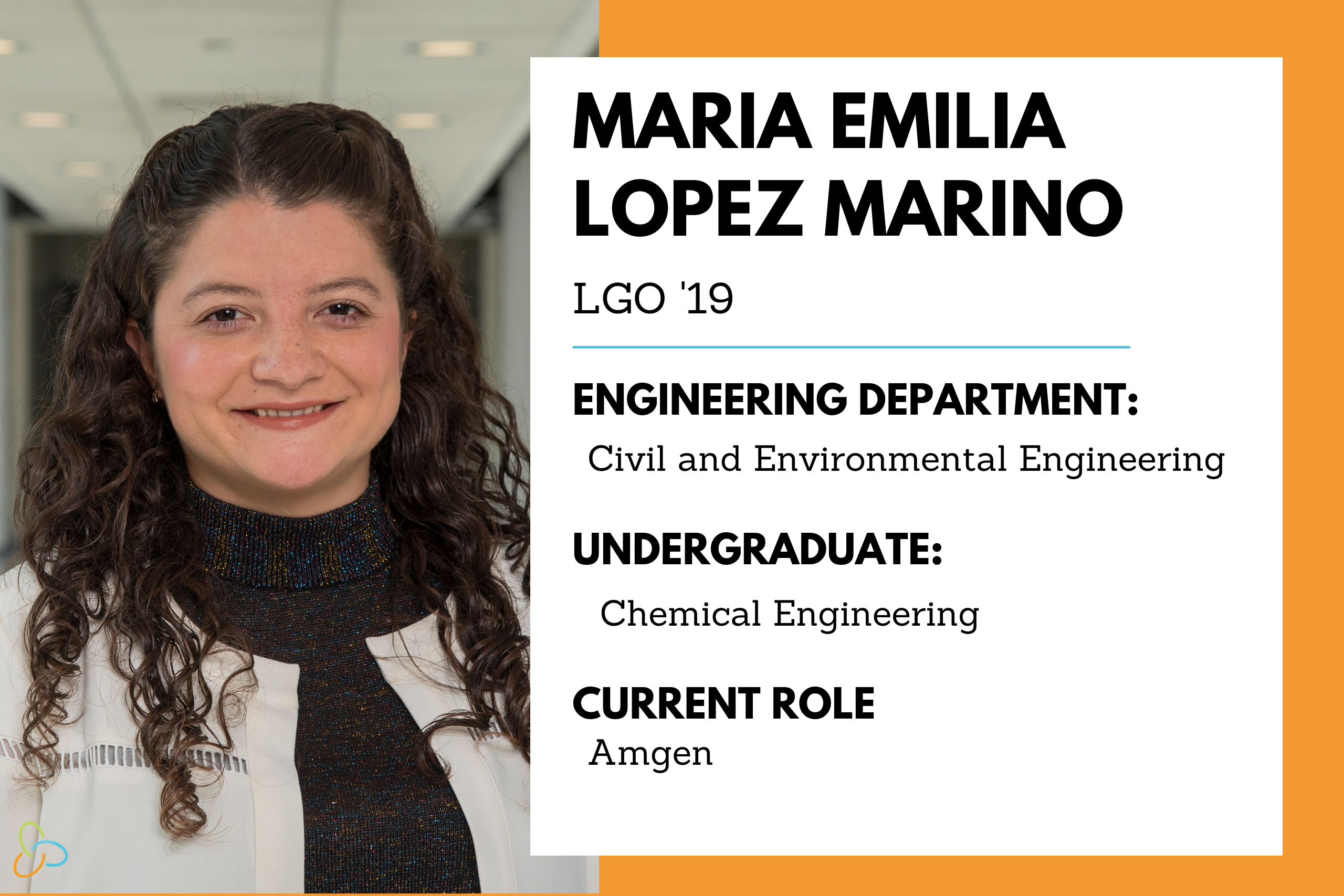 Why did you decide to attend MIT LGO?
Attending MIT Leaders for Global Operations is one of the best decisions I have ever made. I decided to join program to get the academic skills and credentials that would enable me to make the next step in my career. However, I came out of the Program with much more than I ever expected. On top of an invaluable toolbox to continue developing my career in operations, I am now part of a highly prestigious network of MIT alumni.
Without a doubt, those two years have been the greatest and most captivating intellectual experience of my life. Be ready to learn cutting-edge topics from world renowned professors. I came to the program expecting the innovative and inspiring MIT ecosystem, the fascinating classes, the incredible trips. However, I did not expect to be part of such a close-knit community that I am pleased to call family. I met a cohort of impressive, highly-accomplished while humble and collaborative individuals that became friends after three months. I am truly grateful to have made the decision to come to LGO. I will be forever thankful for the special bond I built with my classmates, and the strong LGO Alumni Network I am now a part of.
What was the most valuable takeaway from MIT that has helped in your career post-LGO?
The Leadership Principles covered in the MIT LGO Leadership curriculum and in Sloan were the most valuable tool I got from the program. Getting testimonies and real-world lessons from highly talented and successful business leaders, combined with the Sloan leadership framework was the most useful skill I learnt.
Have you used the LGO network in your career? If so, what has been the impact of the LGO Network on your career?
Being an LGO means being part of a distinguished circle within the broader and prestigious community of MIT alumni. The relatively small size of the LGO class enable a close-knit community feel that transcends classes, and leads to a very strong alumni network. One of the many reasons I decided to join Amgen after MIT LGO was the large alumni network within the company. Within Amgen, alumni share internal job opportunities, general lessons, learning topics, career advice and mentor-ship.
What do you enjoy most about the work you do?
What I enjoy the most about my work is working with and developing my team. I am passionate about developing people and systems, guiding the use of cutting-edge technology, to solve highly complex problems which reduce waste and our environmental footprint, and improve patients lives.
Do you have any advice for prospective LGOs?
Former MIT president Jerome Wiesner (1971-1980) coined this colorful description of the MIT educational experience: "Getting an education at MIT is like taking a drink from a fire hose". He couldn't have depicted the experience better. At MIT you should expect to have your plate full 24/7. Conferences, hack-a-thons, seminars and talks by renowned industry leaders and scientists, impressive thesis defenses, and much more happens on daily basis at the MIT campus. It is an environment that truly inspires you to get involved and take an active role in what you are passionate about. And LGO is special in the sense that it gives you a place in two departments (engineering and management), becoming part of the linkage between different systems and enabling you to operate at the intersection of them. I recommend that you come with an objective, but you need to be flexible enough to potentially change it on the way, because I can assure that you are going to get inspired.