To highlight Blue Origin joining LGO's industry partner companies, we caught up with Aero/Astro LGO '18 alum Barret Schlegelmilch, Principal Program Manager and a CrewMember 7 at Blue Origin.
---
What is your current role?
I am one of our four "CrewMember 7's" – we are responsible for training our astronauts and preparing them for flight on New Shepard, as well as serving as the Capsule Communicator (CapCom) in the New Shepard Operations Control Center. The crew capsule holds six astronauts, and we represent the rest of the Blue Origin team as the seventh crew member.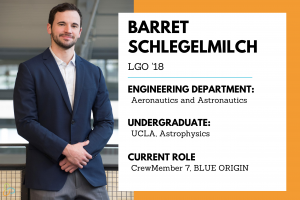 Why did you decide on attending MIT LGO?
LGO presented an unmatched opportunity to both translate my leadership skills gained in the nuclear submarine community to private industry, and simultaneously build a stronger technical and operational foundation with an amazing cohort and faculty. The focus on applied learning through Ops labs and the integrated co-op was a huge draw for me and one of the most valuable aspects of the program.
What was the most valuable takeaway from MIT that has helped in your career post-LGO?
The importance of questioning assumptions and regularly analyzing a process at the most basic levels. Going back to a whiteboard and mapping out a process diagram has helped unravel more than a few seemingly complex operational problems.
What do you enjoy most about the work you do?
Sharing my passion for human spaceflight with others, and directly helping to advance it as part of my job, has been a dream come true. The space industry is at an inflection point of growth, and the LGO skill-set is definitely well-suited for it.
Do you have any advice for prospective LGOs?
Take advantage of all of the resources that MIT has to offer graduate students, from the clubs to excellent Ops Lab offerings – if something you would like to see doesn't exist, create it! MIT will support you – I got to see this first hand in organizing the Astropreneurship and Space Industry Club as well as the New Space Age Conference. Most importantly though, enjoy your time with your cohort. They are the best part of the program.