Continuing our celebration of Women's History Month 2021, this week we are spotlighting two alumni who are 10 years out of LGO: Kacey Fetcho-Phillips, LGO '11, and Annie Kang, LGO '12 and head of the WLGO (Women of LGO) alumni steering committee.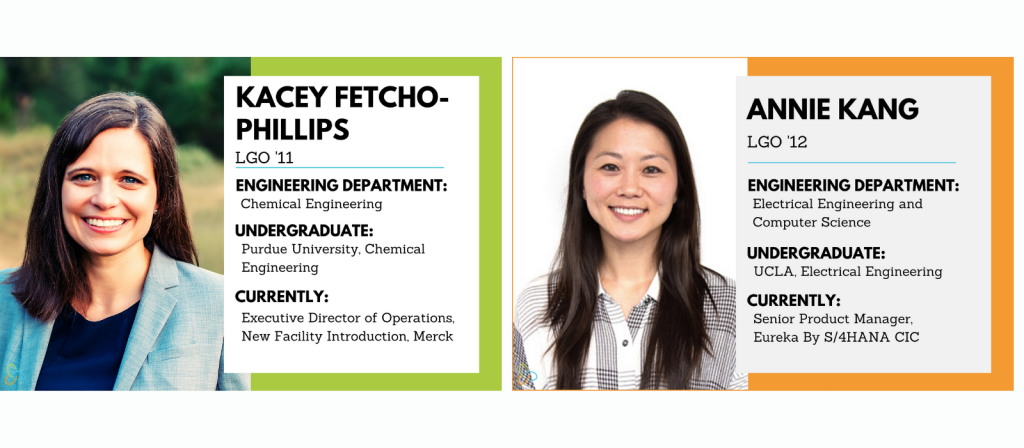 Why did you decide on attending MIT LGO?
Kacey: Early in my career as chemical engineer, I loved creatively solving problems and making a difference in manufacturing plants.  While I enjoyed my work, I knew there was much more in the broader business and I wanted to learn more.  After researching options, I decided to explore full-time business schools.  The combination of building on my existing technical mindset within the School of Engineering, growing as a business leader through Sloan School of Management, and the opportunity to do both within the established operations leadership framework of LGO was amazing.
Annie: I was debating between pursuing a Masters in Electrical Engineering or an MBA and was encouraged to consider both. I had heard about LGO from a previous colleague at an internship and again from a colleague at the job I had prior to joining LGO. I visited Boston to attend an Ambassador Day and as I learned more about the program, I was drawn to everything it had to offer. Accepting an invitation to join a program that was exceptionally strong in both business and engineering and that had also rewarded me with the Robert Noyce fellowship was a no brainer!
What was the most valuable takeaway from MIT that has helped in your career post-LGO?
Kacey: Developing a strategic leadership mindset in the LGO program has been transformational; attending LGO changed the way I think.  This was driven by the experiences unique to MIT and LGO – listening to challenging real-life stories from executives in the Leadership and Ethics Seminar, building technical leadership mindset in System Dynamics, and by developing strategic thinking in the capstone Operations Strategy course.  Additionally, these skills are refined with Action Learning experiences, where we have impact applying these principles during school with courses like Ops Lab, where I was part of a team that helped increase ICU room capacity at Boston Children's Hospital.
How were you able to engage with communities of women at MIT and LGO?
Annie: Since March 2017, I have been the chair of the WLGO (Women of LGO) steering committee. This has allowed me to stay connected with a large number of the LGO women alumni. Whether getting together at the Women's Breakfast at the Alumni Conference in Chicago in 2017, or visiting Boston and the Bay area later that year to celebrate the WLGO 10 year anniversary, or holding a coffee meetup with WLGO alums on the west coast during COVID, every gathering reminds me how lucky I am to know such a strong and admirable group of women. WLGOs seem to always stay curious and motivated, and I always feel so inspired and energized every time I meet or speak with a group of WLGOs.
What do you enjoy most about the work you do?
Annie: Product Management pushes me to be both strategic and detail-oriented. I am able to stay involved in every part of the product lifecycle while working across a cross-functional group of stakeholders. The diversity of the role, from collaborating with UX designers and developers to helping solve a problem for a particular user group, always brings a different set of challenges to tackle every day, which I find to be very exciting and rewarding.
Kacey: I lead a manufacturing facility for Merck & Co., Inc., Kenilworth, NJ, USA, where we are building a new facility for a cancer product in North Carolina.  As a leader, I am passionate about helping people, including patients through the medicines we make and as a leader for our teams.
There is currently unmet medical need in oncology, and we're building a team to serve more of these patients with our products.  I am enjoying the opportunity to be part of this impact from the beginning, including designing the facility, hiring the new team, developing operational structures, and establishing the foundational team culture to enable our collective success.
Do you have any advice for prospective LGOs?
Kacey: Attending MIT is an amazing, inspiring, challenging, and transformational experience.  The foundation and reputation of MIT and LGO, and the boundless innovative mindset from the student and alumni network is a strategic advantage of the program.  If you are energized by the opportunities and innovations that are possible in operations leadership then you have found the right place!