Once a week, LGOs come together for Global Operations Leadership Seminar, to hear from world-class speakers about how to lead effectively in a changing world. By tying together lessons learned at MIT with leaders' stories in the real world, Seminar is a unique experience that prepares LGOs to lead real-world organizations. Because it's such a valuable perspective for LGOs, we haven't compromised even a bit for the constraints of COVID this semester. In fact, we've made the most of our now-virtual world to make 2020's seminar as engaging and important as it's ever been. If you're thinking about LGO, and you're worried about the possibility of continued virtual classes, I want you to know that LGO has created a best-in-class leadership education in any setting.

This semester, we've been able to bring in a diverse and truly incredible group of speakers, and covered super-important topics for any future leader. New this year, our first 'theme' was sustainability: we brought in MIT Professors John Sterman, Jason Jay and Andrew McAfee to speak about how emissions will be an increasingly important topic for all businesses, and we discussed the enormously role that leaders from LGO can play and need to play in addressing the climate crisis. John Sterman and Andrew McAfee provided a juxtaposition of a dire and an optimistic outlook on climate change, which has forced all of us to closely re-examine our assumptions about climate change. Jason Jay brought in a panel of business leaders to talk about how they've been able to promote sustainability in their organizations, and led a deeply reflective session about having difficult conversations without the other side getting defensive. The sustainability theme has become a regular topic of conversation among the LGO community, and equipped us to be effective leaders in this new world.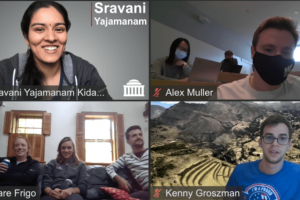 Our second 'theme' was technology and influence. We invited Prof. Raj Reddy, Rathi Murthy (CTO Verizon Media) and Aicha Evans (CEO Zoox) to speak to LGOs about where the world is going, and how to remain an effective leader as the world changes. Raj Reddy reflected on a career pioneering the field of AI, and discussed how to create AI systems for businesses that behave ethically. Rathi Murthy and Aicha Evans both spoke about leading organizations at different stages of technology development; both of them are incredible leaders in their fields, and they shared key insights about making their teams super-productive. Technology is a key aspect of every LGO's career, and together these speakers have been invaluable in preparing LGOs to lead technology teams effectively.
Our third 'theme' was doing the right thing. We heard from several LGO alumni from a variety of businesses; each one shared a different dilemma that leaders can face in their careers, and how leaders can feel stuck with doing the wrong thing. But having these conversations now has equipped us to graduate knowing how to identify and stick with doing the right thing as a leader. And in light of 2020's national push to improve racial justice in policing, we brought in a prominent police chief who faced racial justice dilemmas recently; some LGOs appreciated his perspective, while others disagreed, but in all cases LGOs became more conscious about how leaders must do the right thing.

The level of student engagement in seminar has been truly incredible, made all the more impressive by its virtual nature. Speakers have made their seminars highly interactive, often incorporating small-group reflection activities, student reactions and Q&A sections. And LGO students in the class of '21 and '22 have stepped up, asking our speakers perceptive and impactful questions.
Here are some of the things students said about seminars this semester:
"One of the best speakers I have ever listened to! Truly exceptional seminar"
"Great insights about how to flex different skills along the path to leadership! Nice to hear from someone who has worked in both tech and non-tech companies."
"This was the 'realest' session we had so far and I really appreciate it. These are the types of conversations that we should all be having."

Finally, I want to let you in on a little 'secret': the class Global Operations Leadership Seminar is actually shaped and run by current LGO students on the committee! Kenny Groszman and I co-chaired the committee together this year, and the staff affords us tremendous flexibility to build the seminar experience that we think will be the most meaningful for our classmates. Not only that, but working on a close-knit committee has been a wonderful leadership opportunity; never before have I led such a talented group of team members. The rest of the committee members have been absolutely invaluable in selecting speakers, and taking each session end-to-end from outreach to live moderation. So I want to give a HUGE thank you to Amit Galgali, Christian Allinson, Lampros Tsontzos, Luke Higgins, Paige Wyler, Sean O'Donnell, Sravani Yajamanam Kidambi and Taylor Facen!
~
By Colin Poler, LGO Class of 2022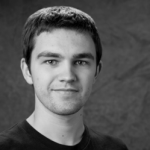 Colin Poler is an LGO '22, pursuing an SM in Electrical Engineering and Computer Science. He co-chaired the LGO '22 Seminar Committee, and he is interested in using interpretable AI to improve manufacturing operations.