While colleges and universities are gearing up to start the fall semester, the newest LGO Class of 2023 has already been on-campus and in class since June. LGO's full 24 months of curriculum begin every summer at the very start of June, when the new class comes together just as the 2nd years are graduating and re-entering the workforce. The first three months of the program are dedicated to the LGO Summer Core and is a busy time for our students as they get to know each other and get started on their credits for their dual degrees.
The Class of 2023 is one of our most diverse classes ever, in terms of gender, race, ethnicity, industry, work experience, engineering department distribution, and what they are hoping to accomplish over the next two years.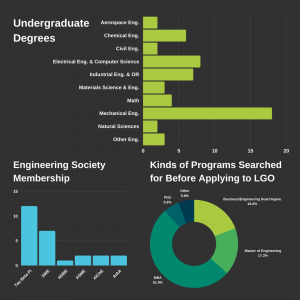 The 2020/21 admissions cycle was unique for many reasons, but it was also our biggest pool of applications, making this class one of the most competitive we have ever had. We were excited to welcome the LGO '23s who are bringing a lot of new perspectives to the class, showing increasing interest in healthcare, data analytics, and sustainability focuses along with the strong manufacturing and operations that have always been at the foundation of LGO. This year we are welcoming 2 students to our newest engineering department: Nuclear Science and Engineering. These students will focus on exploring sustainable energy and will pioneer a new engineering curriculum.
We also have students from non-tradtional admissions pathways joining us this year. The first student to pass through Sloan's MBA Early Admissions program and apply to join LGO has started this year in Mechanical Engineering. Sloan's MBA Early and LGO Early (for current MIT seniors) are admissions pathways that are for undergraduates looking to get a head start on their graduate school timeline. We also have a Department of Material Science and Engineering PhD joining us to finish out his PhD along with a Sloan MBA. This is the third DSME PhD student who has pursued LGO to maximize their time at MIT and opportunities for industry research.


The Class of 2023 has shared a wide variety of reasons and factors that led to them joining LGO this year. Top considerations included access to MIT as a world-class institution and network, the short-term and long-term benefits and ROI of a dual degree, accelerated career outcomes, access to industry partner companies, the enthusiastic and tight-knit community of students and alumni, and the generous fellowship that is granted to each student admitted into the program. This was also a cycle where LGO was able to expand its scholarship offerings to support our diversity efforts, with the new LGO Diversity Fellowships for students who demonstrate a commitment to diversity, inclusion, and equity in their life experiences, personally and/or professionally.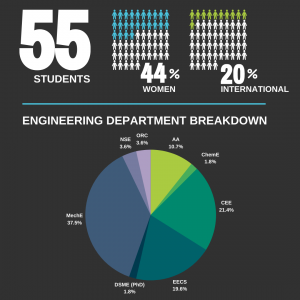 We were excited to welcome the 55 LGO '23s earlier this summer, marking one of the biggest classes admitted into LGO. The next two years will be busy, but we are looking forward to all the newest cohort of LGOs will explore and accomplish at the intersection of business and technology.