Wrapping up our 2021 celebration of Women's History Month, we are featuring two alumnae 20 years out from LGO! Christine Wong, LGO '02, and Meghan Scanlon, LGO '00, share the LGO lessons they have carried into their careers as well as their hopes for a more diverse and impactful industry.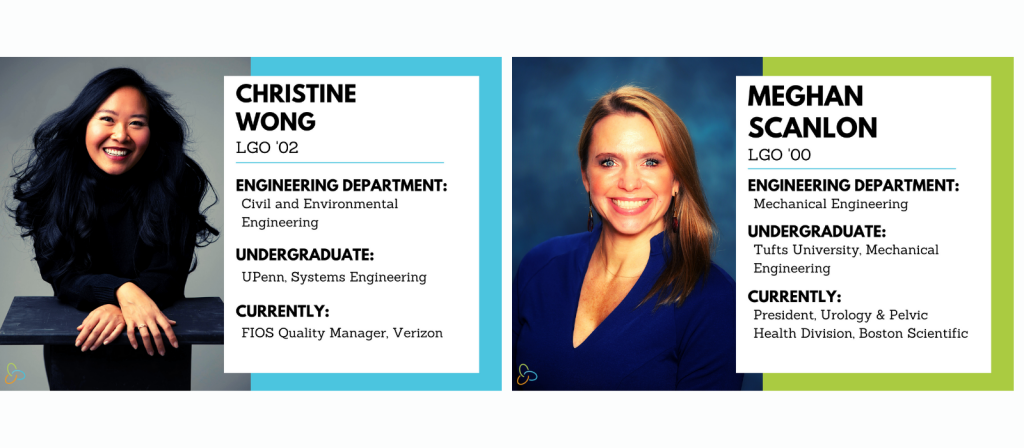 Why did you decide on attending MIT LGO?
Meghan: I was eager to expand my skills and perspectives beyond the engineering/technical field that I was working in. I started searching for part-time MBA programs, as I expected I would need to keep working in order to be able to pay for graduate school.   During my search, I "stumbled" online across the MIT LGO program (called LFM at the time), and it seemed too good to be true!  MIT is simply the best there is… AND the additional fellowship funding made going to school full-time a possibility for me. I was terrified to apply as it was such a prestigious program, but I went for it anyways. I still vividly remember getting the personal phone call from Don Rosenfield… I remember where I was standing. I remember the moment of panic that maybe he made a mistake and I wasn't actually accepted. Then I recall the pride and anticipation that I would be able to be a student at MIT. It was the best decision I could have made personally and professionally.
Christine: I did the Management and Technology at the University of Pennsylvania as an undergrad and really valued the dual degree and discipline approach to the program. It was such a formative experience to be able to apply engineering principles as well as a business mindset to every problem. The LGO program was really a natural extension of that experience.
How were you able to engage with communities of women at MIT and LGO?
Christine: With the LGO community being tight knit, it was easy to befriend and engage all our classmates.  It was especially great to meet women who all had different paths prior to LGO and then to continue to keep in touch to see all the great things they are accomplishing after the program.
What was the most valuable takeaway from MIT that has helped in your career post-LGO?
Meghan: Three things:
Teamwork – it's how businesses thrive and deliver their best results. Teamwork was essential to survive and get all the work done in LGO. You simply couldn't do it all alone.
The 80/20 rule – knowing when your work is good enough to call it done… and how pursuing perfection can eat up way too much of your time without delivering commensurate benefit.
VOC training and diving deep into the customer needs hierarchy – asking "why" until you get the REAL answer of the problem you're needing to solve.
Christine: The most valuable takeaway from the program would be the strong alumni network. I'm at Verizon today because of the network and I'm trying to pay it forward by hiring more and more LGO graduates each year to come join Verizon. We have an LGO-focused recruiting team that participates in plant treks, company day events, executive proseminar, and full-time and internship recruiting to continue the partnership engagement with the hopes of finding incredible talent.
What do you enjoy most about the work you do?
Christine: I manage reverse logistics at Verizon and work at the intersection of business and engineering every day. I love that I get to manage a team of technical engineers who develop and design product testing while also managing an operational team to implement the technical solution. The LGO program provides not only the skillset required but also the confidence to show up and deliver results.
Meghan: As president of the Urology & Pelvic health division at Boston Scientific, my job is incredibly rewarding. We improve the quality of lives for millions of patients around the world. It's very meaningful work.
Additionally, I love serving my team and our organization that makes this company so great. Setting clear strategy and direction and then resourcing people to deliver and achieve their professional goals is one of my favorite parts of the job. Watching people and teams flourish and win is incredibly rewarding!
What are your hopes for diversity in LGO and in industry?
Christine: I'm still often the only woman in the room in most meetings at work. There is still so much opportunity for diversity and inclusion. Women carry much of the responsibility at home and feel strong pressure to do it all. Luckily Verizon realizes this gap and I was invited to participate in the Women of the World (WOW) program to tackle these very issues with squads of women across the organization doing different work but facing similar challenges. My hope is for us to have the conversations, create opportunities, and to support one another.
Meghan: I am fortunate to lead a management board that is incredibly diverse. During the many challenges of 2020, I benefited first hand from the power of this diversity. We had richer debates, we made better decisions, we served our teams more meaningfully as a result of this diversity. Diverse and inclusive teams are higher performing teams. Period. We need more business leaders who know and believe this.
Do you have any advice for prospective LGOs?
Meghan: You'll learn the most and grow the most because of your classmates. It's the most intense two years of your life… it will feel intense and long while you're in the thick of it all, and in a heartbeat it will be over. Don't strive for perfection, strive to learn and grow.
Christine: Look at the LGO program as a start of your journey. The program will open doors but with it comes responsibility. Responsibility to create change in your organizations and to continuously bring multi-faceted solutions to problems.