A year ago, the current LGO '23s were preparing their materials for applying to MIT LGO. With hindsight and the LGO Summer Core behind them, the Class of 2023 has lots of application advice for current candidates. Julie Sarasua and Fiona Gouthro share their experiences prior to LGO and reflect on what helped them apply and ultimately decide to attend LGO!
This is Julie Sarasua, LGO '23! I studied Industrial Engineering in undergrad but am now in the Civil and Environmental Engineering department, focusing on supply chain optimization and resiliency. Before LGO, I worked in logistics and distribution in roles focused on distribution center performance and last mile delivery. The onset of the COVID-19 pandemic and subsequent spike in demand for e-commerce prompted me to think more seriously about going to graduate school. I wanted to understand how supply chain operations could be more resilient to breakdown, both from a business and engineering perspective. The dual MS/MBA degree option was the perfect fit for me. Before applying to LGO, I reached out to current students and alumni of various graduate programs to learn more about the programs from an insider's perspective. LGO students were particularly enthusiastic about talking with me and shared helpful pieces of advice about reflecting on my career, as well as general application tips.
The best piece of advice I received prior to applying was to take a step back and reflect on why I wanted to go to graduate school in the first place. What was I passionate about? What were my goals? Why does LGO fit better than continuing to gain work experience or attending another graduate program? At the end of the day, you are the driver of your own career. The more you know yourself, the more you will get out of graduate school and the better positioned you will be to embark on a career you love.
Best of luck on your application! Please feel free to reach out with any specific questions about the program.
---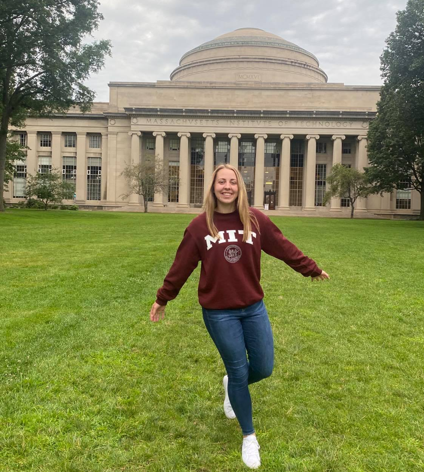 Hi everyone! My name is Fiona Gouthro, and I am an LGO 2023 pursuing my MBA and MS in Mechanical Engineering. Before coming to MIT, I worked as a project manager in the oil and gas industry for three years. I am a proud Canadian, and I love winter sports, all-dressed chips, and the metric system. I found out about the LGO program while working on my undergraduate degree in Mechanical Engineering. It seemed like the perfect fit for me as I wanted to pursue a career where I could solve problems at the intersection of both technology and business. LGO allows you to learn from the best in both of these fields and apply your learning through project-based classes and internships with industry-leading companies.
My biggest piece of advice during the application process is to be specific with your goals for graduate school, recognize how MIT can help you achieve those goals, and identify how you can contribute to the MIT community. During my application process, I spent a lot of time researching specific classes and labs, engineering disciplines, and clubs that fit my interests and goals. I found it extremely helpful to reach out to students and professors if I had any questions about what I was reading online. Everyone I reached out to was incredibly responsive and helpful. If you are able to call out these specifics and tie them to your personal goals, it shows initiative and interest in the program and the school. Remember that identifying these in your application does not mean that you cannot explore new interests once you get to MIT!
Feel free to reach out with any questions you have. Good luck! You got this! 🙂
---
We asked the LGO Class of 2023 to provide one piece of advice they would give to incoming LGO students preparing their applications. Here are some of our favorites:
Invest equal amounts of time in your GMAT/GRE as in the rest of each other component in the application (essays, interviews, recommendation letters, etc.). Every piece is equally important and stubbornly studying GMAT/GRE rarely raises your score significantly.
Check out the research in your engineering department and see if you can link the department's innovative work with your own career aspirations.
Take the time to think critically about what strengths and areas for growth you want to highlight in your application and pull together a collection of stories (3-5) from your past experiences (personal or professional) that highlight those key messages you want to convey.
Truly understand why BOTH the MS and the MBA fit your career path/ambitions. Why not just an MBA?
Be yourself in the video submission and interviews. They want to know you personally!
Be introspective. Figure out what you want in your career and how LGO and the MIT community will help you get there. Then, focus on putting together the best application you can. Attend as many events you can to understand the application process and reach out to LGO Admissions if you have any questions at all!
Find someone in your family, friend group, or work that you trust to be honest and impartial that is willing to read through your essays/application and give you honest feedback.
As Nike's motto goes: just do it! (No second thoughts)
Reach out to professors and grad students doing the work you are interested in and attend seminars/talks related to those topics (e.g. find ways to show your face and make connections).
Reflect on your life and career experiences so far and where you want to go. Take that and craft a story about how the LGO program fits in and will help you achieve your goals. Be specific!
Think about how to use each detail of your application to highlight the things that are important to you and demonstrate who you are beyond the resume. Follow the suggested formatting!
For the one minute video introduction, keep it light!
Get in touch with a current or recent LGO if you can. You'll get personalized advice and you can also use that time to make sure that LGO is the program that is right for you. LGO is demanding and specific, and the best way to figure out if it's a good fit is by talking to people who have already done it.
Talk to as many people as possible so you can pick up key talking points for the interview. You can also list these people in your application.
Know that you're already totally qualified. Be confident and showcase whatever you think makes you unique!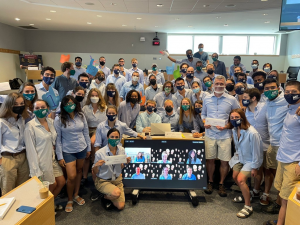 ~
By Julie Sarasua, LGO '23, and Fiona Gouthro, LGO '23