Introduction
My name is Andrew Dugan, LGO 25 (MBA /MechE).  I spent ten years on active duty in the Army before coming to LGO.  I spent the first few years of my career as an Infantry officer before transitioning to Special Forces.  I am joined at LGO with my wife, Leigh, and daughters, Harper (2) and Lilliana (16 days).  I did my undergrad at the United States Military Academy, where I studied mechanical engineering. My goal at LGO is to make a career pivot from the military into sustainability.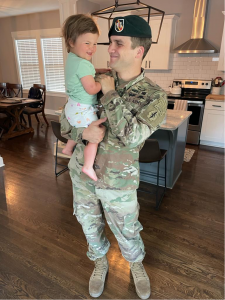 Transitioning from the Military to LGO
Leaving the Army after ten years was not initially on my family's radar.  Everything changed once we had our first daughter, howe ver.  My third deployment was my first with a daughter, and after missing her first Christmas, birthday, and steps, we decided it was time for a change.  I was weary of applying to schools because I hadn't been a student in nearly a decade and was concerned about losing a steady paycheck.  It was through conversations with Adam Barber (LGO 23 / Veteran), that I was convinced that applying to LGO was the right move for me and my career.  This was my first introduction to the LGO community, and I was beyond impressed.
My biggest concern before the summer semester started was that I was going to be the oldest person in the room, and also the least academically qualified.  Fortunately, I was only the second oldest.  Although the academics were challenging this summer, this is where I discovered the value of LGO. Through the rigorous summer, my peers and I bonded and helped each other out.  We became a tight knit team, and all supported each other.  It was a level of camaraderie I did not expect to form post military, and it has so far been my favorite part of this experience.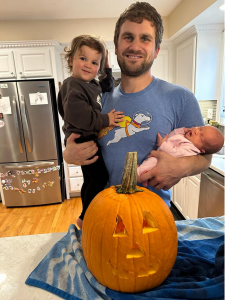 MBA Core
The fall core has been an excellent experience so far.  Mine has been much different than most, because my wife just recently gave birth to our second daughter.  MIT has been unbelievably accommodating during this time.  From professors being flexible, to my peers bringing over food almost nightly as my family adjusted to our newest member.
Academically it has been rewarding as well.  On top of the Sloan core classes, I am taking a class on finance, AI/ML, and sustainability.  I have been able to craft my schedule to meet my interests.  At LGO, I get to take classes with some of the smartest people I have ever met.  Initially it was incredible intimidating to be in the same small group with people who I considered to be brilliant.  Over time though, I learned that I also belong here.
Leaving the Army was a tough decision, but ultimately, we are extremely happy with our decision to come to LGO.  From rewarding academics to an incredible community, it has been as advertised.  I am not your average LGO.  I am 33, have 2 kids, and have never once called myself an engineer.  Despite all of those things, I have been welcomed by all of my peers.
Advice to Veterans Applying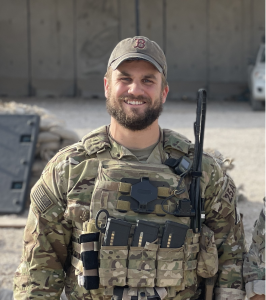 My biggest advice to veterans applying to LGO is to be confident in yourself and your abilities.  Every veteran has a unique story and has gone through experiences that most have not.  Learn how to tell that story and be confident in doing so.   For our entire military careers, we are taught to never take credit for anything, and always recognize the team over yourself.  During the application process, this has to change.  You need to find a way to quantify the impact that you had.
My other piece of advice is to reach out to current and past veterans of LGO.  I talked to probably every veteran who had gone through the program in the last 5 years with a family.  Everyone was more than willing to talk to me, and share with me their experiences.