As one of the first LGO students pursuing a dual MBA and MS in Nuclear Science & Engineering, Santiago Andrade Aparicio shares on his experience in LGO as part of the pilot class of LGO's newest engineering department partner!
I was born and raised in Mexico City where I attended Universidad Iberoamericana for my bachelor's degree in Chemical Engineering. My career started as an engineer with General Electric Oil and Gas but quickly shifted towards business strategy when I joined Bain & Company in 2018. I had the opportunity to work on multiple strategy definition and performance improvement projects in the energy, consumer products and retail industries. After 3 years of consulting, including 12 months of travel to Colombia, I felt that it was time for the next step in my career and I knew I wanted to work in the energy world again. Right before LGO, I joined a startup called Sistema.bio that focuses on providing financially attractive biogas solutions to smallholder farmers in developing countries (Mexico, Colombia, India, Kenya) in hopes of empowering small farms to divest from burning wood and coal. This experience confirmed that the energy world was my calling, and going back to school would help me get there.
How did you determine NSE was the right department for you?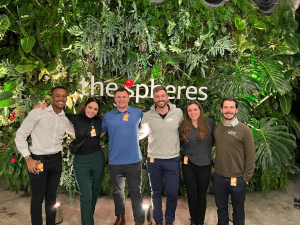 When choosing departments I was tempted to apply to MechE, ChemE, Aero/Astro, as an fan of science in general, I could see a multiple engineering paths that could provide me with the tools and experience needed to work on the world's energy transition challenge. This is where the LGO admissions department reached out to me during the application process with a question: "Would you be interested in being part of the first class of Nuclear LGO?" My background in thermodynamics and energy and my business experience were a great fit for the NSE department. At the recommendation of NSE faculty, I signed up for a couple online courses on Nuclear Energy. Taking these courses helped me realize nuclear energy – whether fission or fusion– would be my path. I would be able to pursue a career on clean energy and have the opportunity to lay down the path (together with Lindsey Kennington) for future NSE LGOs.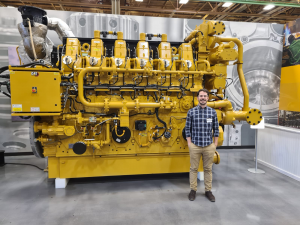 How has the experience been so far?
My time at LGO and broader MIT has been an incredible, exciting and humbling experience. I have enjoyed sitting in the classroom listening to the smartest people I have ever met engage in technical and strategic discussions led by highly experienced faculty. On the MBA side, I have greatly appreciated classes regarding leadership and communication skills. On the NSE side, I have been focused on the topic of Nuclear Microreactors under the supervision of Prof. Jacopo Buongiorno and Prof. John Parsons. I had the opportunity to work as a research assistant for them on developing a business model that can successfully support the deployment of this technology. This work was a natural precursor for my LGO internship at Caterpillar where I am working on the technical and commercial feasibility of using nuclear energy to power mining sites and data centers.
While all of these accomplishments and experiences have been extremely rewarding, they only represent half of my MIT experience. The other half lies with the deep and meaningful friendships I have built with my classmates. From my LGO crew, to my MBA friends and beyond, I have felt incredibly supported and encouraged by my peers. The time spent with them feels as valuable as the time spent in the classroom, especially when this time is spent having dinner after an afternoon of sailing in the Charles and finishing the day with a class-wide get together. As I enter this second year, I am excited to welcome my wife, Maira, as she moves to the Boston area and exploring together all the fun activities that take place in this city with the company of my MIT family.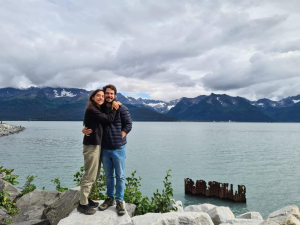 Advice to candidates considering NSE?
First of all, be honest, both with yourself and with the application. I think the most important thing is to know why you are applying to this graduate program and to show nothing less than your whole self. More specifically, I would highly recommend using different elements of the application to highlight a variety of past successes. NSE LGO is still new, so I would advise to you reaching out to current LGO or MBA students to listen to their experience and understand how you can continue to support the NSE-LGO partnership as it continues to grow. Additionally, talking to the NSE faculty was incredibly useful for me. Since the NSE department offers opportunities ranging from energy to healthcare and from quantum engineering to regulatory policy, the possibilities of career tracks after graduation are countless.