Each year, Americans observe National Hispanic Heritage Month from September 15 to October 15. Generally, the month is a time to celebrate the histories, cultures and contributions of American citizens whose ancestors came from Spain, Mexico, the Caribbean and Central and South America.
What were you doing before LGO and why did you decide that LGO was the next step for you?
Before LGO, I studied Applied Mathematics at ITAM  in Mexico City and worked in the Data & Services business unit at Mastercard Mexico where I was able to leverage my rigorous technical background and implement business solutions, designing the strategy and technical aspects of data driven products. I chose to pursue LGO because MIT offered the ideal platform for further improve my technical skills while concurrently enhancing my business and soft skills.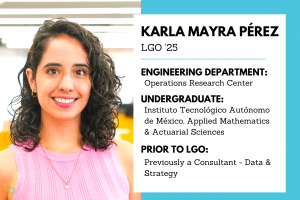 How was the LGO Summer and transitioning back into school?
The LGO summer provided an amazing opportunity to gain unique insights from individuals of diverse backgrounds. Transitioning back to school required a shift in mindset, but it has proven to be both rewarding and fulfilling.
What is your favorite memory from your time at MIT so far?
My biggest takeaway from MIT has been that ideas can actually transform into reality and I've learned that creating a diverse and globally-oriented environment can be a catalyst for accelerating innovation.
What are you still looking forward to exploring at MIT?
I'm still looking forward to explore more students clubs and experiences such as Action Learning Labs that provide a hands-on introduction to topics such as Analytics or Product management for business challenges with real companies.
How have you engaged with affinity groups or diversity initiatives while at MIT?
Currently, I'm part of the Sloan Women in Management (SWIM) where I have the opportunity to have a second year mentor that guided me through the journey of going back to school, helped me understand how to prioritize and even just listened to me.
What are your hopes for the future of diversity in LGO and in industry?
My aspirations for the future of diversity extend beyond just increasing overall representation; I hope to see diversity acknowledged and embraced in leadership roles, while nurturing an inclusive organizational culture.
Do you have any advice for prospective students thinking about applying?
Applying can be challenging but it's definitely rewarding, all the effort will be worth it at the end.