Hispanic Heritage Month is a time to celebrate the contributions Americans with roots from Spain, Mexico, Central America, South American and the Spanish-speaking nations of the Caribbean have made to American society and culture. It is a time to reflect on all the unique aspects that make our culture beautiful and what ties us together: music, food, family, and language. For me this month serves as a somber reminder of my parent's story and the hard working Hispanic immigration community in the US. With today's political anti-immigration rhetoric, it can feel like we do not belong, although most of us are very much American. Far too many times I have felt insecure about my role as a Hispanic in the United States, but I am sure I am not alone.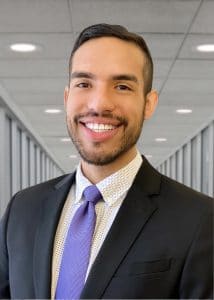 My parents immigrated to California from Mexico nearly 30 years ago in search for better opportunities for my sister and me. I was raised in a predominantly white community where my classmates would joke about Mexicans being poor and uneducated. Hearing those comments made me feel ashamed of my roots as I did not want to be seen as poor and uneducated. I even resorted to shying away from identifying as a Mexican American. Developing my confidence in my identity was difficult and it was not until I lived in Guadalajara, Mexico for 6 months that I finally felt proud of my heritage. I saw a beautiful country, ate amazing food, and learned about my culture.
As a first-generation college student, I did not know much about the application process for undergrad, let alone applying for business school. I was lucky to find a place for people like me through Management Leadership for Tomorrow (MLT), an MBA prep program for Black, Latino, and Native American applicants. I met a community of people who believed in me and pushed me to achieve dreams I never thought were possible, including being admitted to MIT Sloan's LGO program.
I could not have picked a better place to advance my career and education than the LGO program. I have the privilege to work and learn from some of the brightest minds in the world. The staff does an incredible job of making our community feel like a family. Despite being one of few Hispanics in the program, the LGO community makes me feel like I belong. However, I also don't want to be one of the few Hispanic LGOs, which is why this summer my classmates and I founded the Active Allyship committee: a group dedicated to increasing the number of Hispanic and Black applicants within the LGO program to increase representation from our community.
Never in my wildest dreams did I think I would be MIT material, but I want all of you to know that the lessons instilled in us by our community and collective values make us capable. Whether you already applied, are still writing your essays, or considering if going back to school is the right decision for you, remember "Si se puede." Be proud of who you are, your roots, and the obstacles you faced to be here. It takes a village and we are here to support you. I look forward to seeing you in class next year.
Un Abrazo,
Gustavo Castillo
~
By Gustavo Castillo, Class of 2022