What were you doing before LGO and why did you decide that LGO was the next step for you?
Before LGO, I worked at Northrop Grumman Corporation in their early career rotational program. I spent 2 rotations on product design teams for avionics at Northrop's Huntsville, AL and Rolling Meadows, IL sites. Designing hardware was an incredible way of seeing concepts learned at school come to life, but long product life-cycles often meant you wouldn't see the product you helped to design for years.
Taking advantage of my unique position as a rotational employee, I sought a short term role in a more hands-on function and was fortunate enough to land a job as a process engineer on a production line for one of the F35's avionics systems. My intention was to spend a year in manufacturing, while simultaneously beginning the pursuit of a part-time graduate degree, and ultimately returning to the design group. These ideas began forming around late 2019/early 2020. (Un)fortunately, 2 things happened that altered my trajectory: the global health crisis and the blossoming of my passion for operations. I found being on the production floor invigorating, solving unique production issues challenging, and seeing my ideas come to life in timescales measured in days, rather than months, rewarding. Even though my trajectory was altered, there was really no need to course correct. I wanted to continue in operations but also wanted to establish an academic foundation upon which I could build the rest of my career. I researched different graduate operations programs and found that they were often tied to business schools. This was an interesting link that I wanted to explore, as I had never really considered an MBA.
Further research led to my discovery of Management Leadership for Tomorrow (MLT), which is a fantastic MBA prep program (you should look into it).  MLT creates an environment that leads its fellows to outstanding acceptances; I was one of many who ended up at top programs. MLT catalyzed my pursuit of LGO – I don't think I would've applied to LGO had I not been in MLT, partly because I found out about the program through my MLT coach. LGO turned out to be a fantastic match for engineers interested in sharpening their business acumen and expanding their technical foundation in order to become leaders in their field. MIT is one of the best places in the world to do so. After the summer you'll realize, if you haven't already, that manufacturing, operations, and supply chain are a quintessential aspect of technological development. LGO allows you to learn the skills to be a part of that progress.
How was the LGO Summer and transitioning back into school?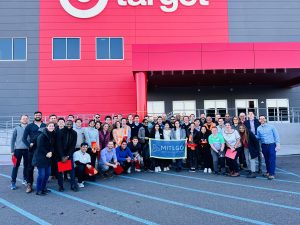 "Intense", is what I would say If I had to describe the LGO summer in one word. Transitioning back to school by itself can be a difficult adjustment for many, but the accelerated pace of the summer certainly notches the intensity up a couple levels. However, the summer is not only intense in its academics, it's also a deeply intense social experience. Picture being with 50 or so driven, intelligent, and new people in a few classes together 5 days a week from June to August, not even counting the time spent working on assignments with your summer core team, mingling with partner companies every week, or visiting nearby factories on a Friday afternoon. LGO is unique in that it can temper the intense academic schedule with meaningful social and professional growth. You and the people you meet here will carry for life a set of shared experiences that can only be found at LGO.
What is your favorite memory from your time at MIT?
Domestic Plant Trek (DPT) is hands down my favorite memory from MIT. DPT is an LGO exclusive 3-week long trip over MIT's winter Independent Activity Period (IAP) across the US to visit the manufacturing facilities of our partner companies. It was seriously the best field trip I have ever been on; the 8,474-mile trip comprised 11 hotel stays, 8 flights, many a bus trip, and 12 partner company visits. We saw manufacturing and operations across different scales: from the micro in drug development at Amgen to the macro in rocket-ship manufacturing at Blue Origin, from the new at Rivian to the established at Nissan, and from mining raw metals at Caterpillar and to refining them at Commonwealth Rolled Products. Witnessing the breadth and depth of opportunities in all of the partner companies has widened the net I want to cast when searching for my post-LGO career. DPT gave us an opportunity to see theory in practice, exposing us to different industries, companies, and manufacturing methods and allowed us to reconnect with our fellow LGOs who we may not connected with over the fall.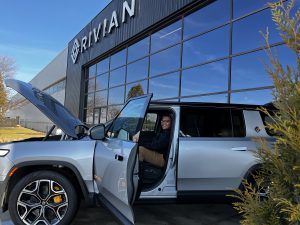 How have you engaged with affinity groups or diversity initiatives while at MIT?
The Sloan Career Development Office describes the concept of a career search as taking the highway, a dirt road, or jungle. Using the ease of navigation of each environment as proxy to describe the clarity of a career path's recruiting cycle. For example, consulting would be taking the highway, whereas recruiting for a startup could be considered the jungle. I would describe my engagement with DEI at MIT as dirt road-ish. Earlier in this post, I mentioned MLT. MLT had a cohort for ~500 prospective MBA applicants across the country, and, as far I know, I was the only MLT fellow who applied to LGO in my cohort. It certainly felt lonely at times, given that LGO runs on a unique application cycle. As an "alum" of MLT and a current candidate at LGO, I was determined to encourage and support the fellows in the MLT cohort that came after me. Over the course of the summer, fall, and IAP, I was able to connect with several prospective LGO applicants from MLT, all of whom applied and got interviews! That was really exciting news to hear and I hope it is indicative of future class profiles that LGO will cultivate.
Do you have any advice for prospective students thinking about applying?
If you feel like the program fits you but you're having second thoughts on whether to apply because of the MIT brand, which can be intimidating, just do it! Talk to alumni and a current student(s), attend a coffee chat, hone your story, just don't leave yourself thinking, "What if?"