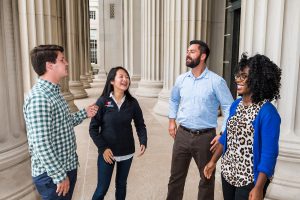 The MIT School of Engineering designed LGO's curriculum to be flexible. Students combine their masters in engineering and management seamlessly. Students are encouraged to follow their interests. The program is also set up to guide students who will become the next generation of high-tech leaders.
Each LGO engineering department has world-class faculty expertise, unique areas of expertise, and exciting research opportunities. LGO students connect with their engineering department communities, which is a vital part of their experience while at MIT.
During the admissions process, we admit LGOs directly into one of seven engineering fields. Applicants select an engineering department when they apply. You're encouraged to choose your field based on academic background, professional interests, and research goals. We've provided guidance to the admissions expectations on each department's page.
Engineering Core
These courses prepare students for further engineering coursework at MIT and a management career in operations and technology. Students complete much of the LGO School of Engineering core during their first summer (for a list of summer courses, please follow this link). The summer courses include Machine Learning, Systems Optimization, and Analysis for Operations.
Product Design Requirement
LGOs take at least one course in product design and development, which can count as either an MBA or engineering elective. Design courses usually cover aspects of the design process, product architecture, user needs, and prototyping or simulation. Approved design courses include:
Engineering Department Curriculum
Each MIT School of Engineering department working with LGO has its own curriculum requirements and course list. Explore each department's page to learn more.